We're halfway through 2019, which means it's already time to start thinking about your website and marketing plans for 2020. Whether you're looking to overhaul your entire website or just want to make a few tweaks, here's our list of the top things to be sure your website includes by the time the clock strikes midnight on December 31, 2019.
1. Responsive/Mobile-Friendly Design
More than 50% of internet traffic comes from mobile devices (according to Statista), and if your site doesn't perform well for those users, you could miss out on all that traffic. More people than ever are browsing, researching, shopping, and engaging with websites on their phones—make sure your site works just as well for mobile users as desktop.
2. Fast Page Speed
Ensuring your website loads quickly is more important than ever, particularly because of the increase in mobile traffic. More people may be viewing your site on a slow connection with a small screen—if it takes ages for the content to load, they'll leave your site for a better site. Google also now takes page speed into consideration as a ranking factor, so if your site is slower than those of your competitors, you could be pushed down in the rankings.
3. Clear CTAs
Whatever the goal of your website, be sure you make it obvious to your users. If you sell products, encourage users to shop and check out. If you offer services, ensure users can browse your offerings and contact you when they're ready to engage. Non-profits might be seeking donations or volunteers. Even a strictly informational site will want to streamline the information and make it easy to find. Define your goals, then use callouts, images, succinct copy, buttons, etc. to drive users to take your desired action.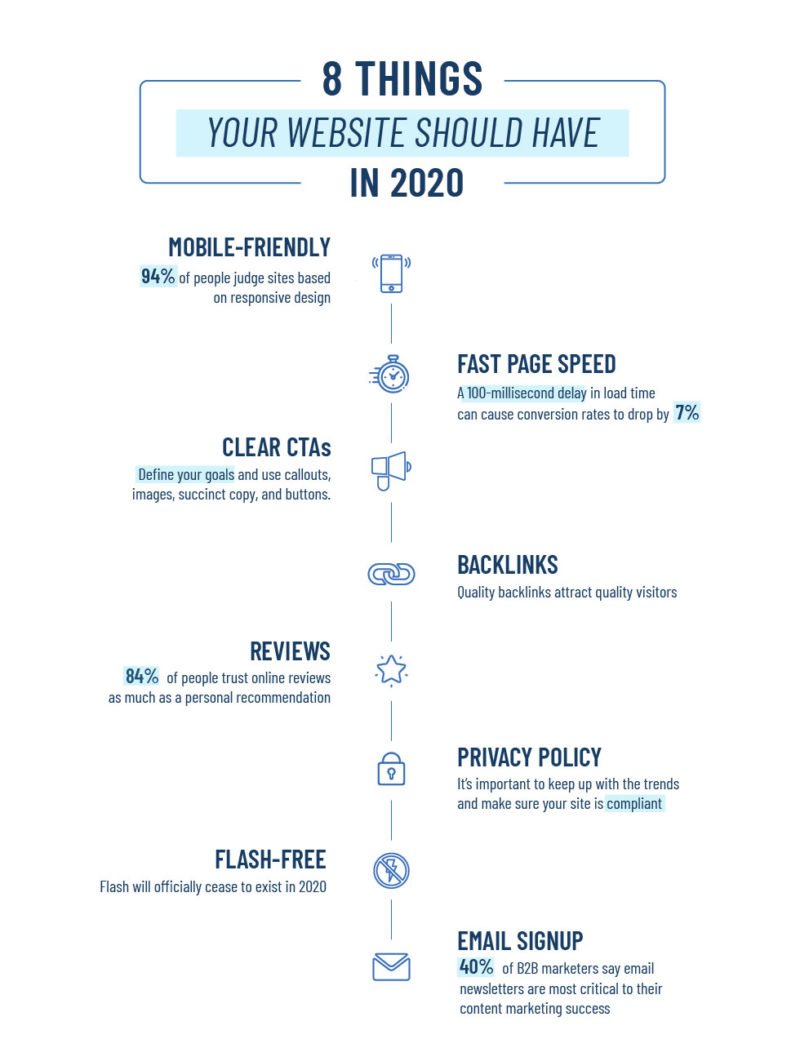 4. Backlinks
One often-overlooked search engine ranking factor is the number (and quality) of other sites linking back to you. It's usually overlooked because either people don't understand its importance or they don't have the time to do anything about it. Both are valid reasons! But know this: While Google takes into consideration everything on your own site when determining where to rank you, it also takes in account what other sites think about you. And one of the best ways for them to determine that is if lots of high-quality sites have linked to your site. It signals to Google that these guys vouch for you and your content; essentially, that your site is about what you're saying it's about. It can take time to identify sites that might link to yours and to contact each one of them individually, but the payoff can be huge.
5. Reviews
Word-of-mouth is a timeless technique for driving customers to your business. And one of the best ways to do that is by getting reviews online. Having a large number of positive reviews signals to potential customers that your business/products/services are good. This social proof can convince someone who's on the fence to take a chance on you. Depending on the nature of your organization, you might seek reviews on Google My Business, Facebook, and/or Yelp. Other niche sites could also work, but don't spread yourself too thin! It's better to aim for a high number of positive reviews rather than a scattergun approach of a few reviews all over the place. Be sure to display any particularly good testimonials on your website and make it easy for people to read all your reviews by linking to the site(s) (e.g. Google My Business) where you have the most reviews.
6. Privacy Policy
Remember all the GDPR hubbub last year? Well, that's not going away anytime soon and it's not just for Europe anymore. California is already adopting similar privacy and data protection regulations, and other states will surely follow soon. It's important to keep up with the trends and make sure your site is compliant. A good starting point is to get a privacy policy on your website. It should use clea
r language and outline all the ways in which you use and store your customers' information. It should be linked from the bottom of each page of your site so that no matter what page a user lands on, they can access the information.
7. Flash-Free
We've known for years that Adobe Flash was going away, but it's amazing how many sites still use it. Flash will officially cease to exist in 2020 (and will no longer be supported), so you'll want to be sure to replace any Flash animations on your site with something more updated, such as an HTML5 animation or video. If you were previously using Flash as an intro to your site, consider removing it altogether to let people get straight into your content. You only have 15 seconds to capture and keep a web user's attention—use that time wisely!
8. Email Signup
People may complain about spam, but spam only refers to emails you don't want in your inbox. Think about the emails you do like to receive: a weekly deals email from your favorite store, a daily email with the latest news, a community newsletter updating you on events in your area. As long as the content is right for you, you'll look forward to getting those emails. Which means your website's audience is likely looking forward to emails from you. Make it easy for them to sign up on your website (you'll only want to email people that you have explicit permission to contact), let them know what they can expect to receive from you and how often, then deliver on that promise by providing quality, timely content via email.
So, how does your website measure up? Does it have some or all of these things, or could it use a little sprucing up? If you'd like help, drop us a line. We'd be happy to get your site ready for 2020.